Musical Background - Hagon Happenings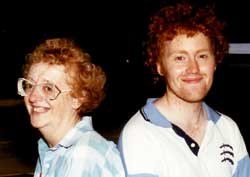 Pat and Richard Hagon
I first met the mother and son partnership of Pat and Richard Hagon in Spring 1993 when they joined STC for "White Horse Inn", Richard as MD and Pat to sing in the chorus. They had already written and produced a number of their own shows when in 1995 they invited me to join a number of performers from the area to sing in the premiere of "The Courage Of Their Convictions". Principal auditions in December 1994 were followed by occasional weekend music rehearsals. A weekend recording session was held at Whitgift School in Spring 1995 and this provided us with tapes with which we could practice before the show in the Summer.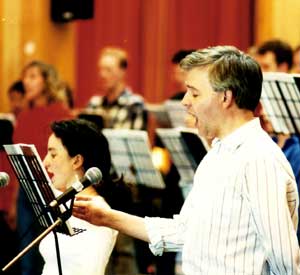 "Courage" recording 1995
The Adrian Mann Theatre in Ewell was booked for the last two weeks of August, at a time when many societies were having their break from rehearsals. Daily rehearsals took place from the first Saturday until the second Monday and the show ran for six performances during the remainder of the second week. As well as learning completely new music, everyone contributed with costume and scenery preparation, advertising and selling tickets. It was a great opportunity to forge new and long-lasting friendships with people from other societies.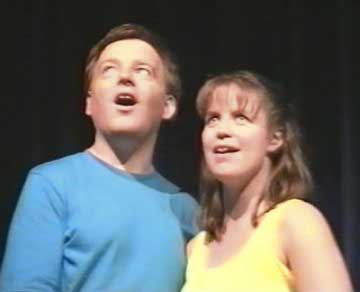 Rehearsals for "Little Women" 2000
The process was repeated at the same theatre two years later with "In The Shadow of Pendle Hill". The story was based on the 17th century story of the Pendle Witches. A smaller scale production was staged in Barley, Lancashire on a snowy weekend in February 1998, in the shadow of Pendle Hill itself.
By 2000, Pat had moved to Welton in Lincolnshire and she and Richard had adapted Louisa M. Alcott's books to produce a musical version of "Little Women". A number of people from Surrey travelled up to Lincoln to join local performers in an intensive week long rehearsal and performance schedule in August 2000. In all, five performances were held at the Bishop Greaves Theatre.