Below are the shows which I've taken part in over the years. Click on the title for full details and photos.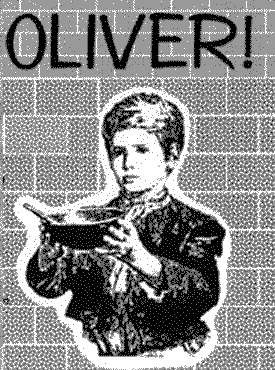 Sutton Theatre Company
5th - 9th April 1994
Secombe Centre, Sutton
Book, Music and Lyrics by Lionel Bart
Cast
James Ryan / James Blackman (Oliver Twist)
Mitch Jones (Mr. Bumble)
Yvonne Howkins (Mrs. Corney)
Derek Drennan (Mr. Sowerberry)
Sheila Ayliffe (Mrs. Sowerberry)
Lucy Creegan (Charlotte)
David Lelliott (Noah Claypole)
Matthew Ryan / James Rangeley (The Artful Dodger)
James Tingey / Stephen Taylor (Charlie)
Terry Saunders (Fagin)
Gwen Edwards (Nancy)
Mary Watkins (Bet)
Garry Moyle (Bill Sykes)
Sue Ford (Old Sally)
Caroline Blackman (Mrs. Bedwin)
Geoff Gibson (Mr. Brownlow)
Derek Surry (Dr. Grimwig)
Janine Eaton, Janet Jones, Pauline Richards, Derek Drennan, Tom Howkins (Street Criers)
Joseph Camp, Luke Das, Tom Davies, James Dunning, Andrew Edwards, Leigh Hack, Gary Heron, Simon Howers, David Illingworth, Lee Johnston-Leyland, Joe St.John, Richard Sweetman, Oliver Taylor-Medhurst, Trevor Warmingron, Thomas Warren, Joanne Corris, Hannah Tingey, David Aspinall, Darren Bacon, Nicholas Blackman, Adam Bryant, Sam Daft, Mark Edmondson, David Fitzpatrick, Lee Gage, Stephen Hazell, Andrew Shore, Elliott Smythe, Jay Thomson, Simon Walters, Robert Watkins, Stephen Watkins, Sarah Hyder, Victoria Hyder
Geraldine Childs, Hannah Cookman, Caroline Cooper, Lynn Daniels, Lauretta Edmondson, Alison Kench, Sally McLeish, Gerry O'Dell-Brack, Louise Pearce, Julie Rawson, Katie Somerville, Natalie Stevens, Amanda Waller
Harry Aspinall, Ian Dacey, John Ford, Iain Fulton, Neil Shrimpton, George Wood
Director and Choreographer
Brenda Stevens
Musical Director
Richard Hagon
Sheila Ayliffe, Derek Drennan, Mitch Jones and James Blackman -
"That's Your Funeral"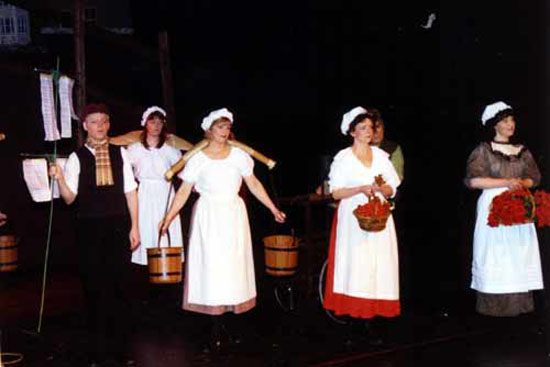 "Who Will Buy?"