Below are the shows which I've taken part in over the years. Click on the title for full details and photos.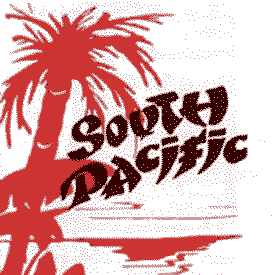 Sutton Theatre Company
30th March - 3rd April 1993
Secombe Centre, Sutton
Music by Richard Rodgers
Lyrics by Oscar Hammerstein II
Book by Oscar Hammerstein II and Joshua Logan
Cast
Sarah Hyder / Hannah Tingey (Ngana)
Andrew Edwards / Robert Watkins (Jerome)
Geoff Gibson (Henry / Cmdr. William Harbison)
Pauline Richards (Nellie Forbush)
Terry Saunders (Emile De Becque)
Tvonne Howkins (Bloody Mary)
Sue Ford (Bloody Mary's Assistant)
Tom Howkins (Stewpot)
Ian Dacey (Luther Billis)
Nick Webb (Professor)
Derek Drennan (Lt. Joseph Cable)
John Ford (Yeoman Quale / Lt. Buzz Adams)
Derek Surry (Capt. George Brackett)
Mary Watkins (Ensign Janet MacGregor)
Gwen Edwards (Ensign Connie Walewska)
Debbie Stilwell (Ensign Dinah Murphy)
Lucy Creegan (Liat)
Lee Reeder (Bob McCaffrey)
Garry Moyle (Marine Cpl. Hamilton Steeves)
Caroline Blackman, Vanessa Blackwood, Julie Brown, Geraldine Childs, Caroline Cooper, Lynn Daniels, Lauretta Edmondson, Susan Elphick, Alison Kench, Karen Kench, Rachel Moran, Gerry O'Dell-Brack, Louise Pearce, Julie Rawson, Margaret Rhodes, Amanda Waller
Harry Aspinall, David Lelliott, Jon Oddy, Neil Shrimpton, Matt Stilwell, George Wood
Director and Choreographer
Brenda Stevens
Musical Direction
David Cresswell and Jon Oddy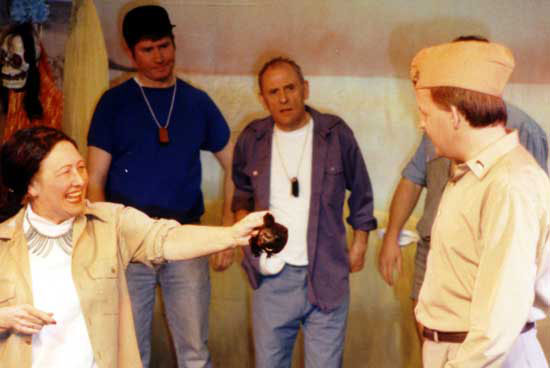 Yvonne Howkins and Derek Drennan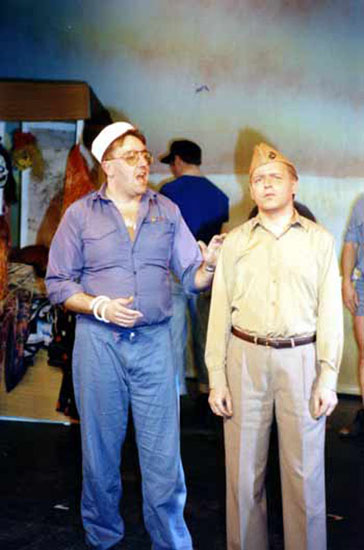 Ian Dacey and Derek Drennan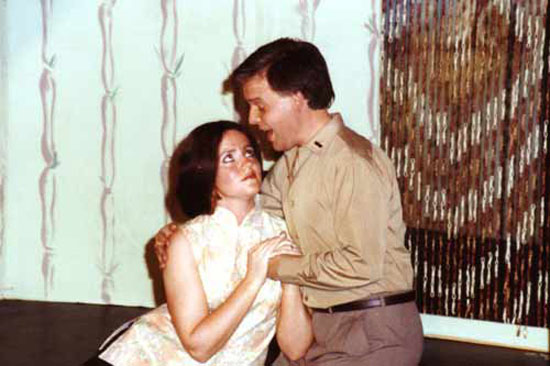 Lucy Creegan and Derek Drennan - "Younger Than Springtime"